ABOUT
Pianist Luisa Guembes-Buchanan has received wide praise for her brilliant pianism, her powerful and poetically insightful interpretations, and her innovative programming and series of uniquely beautiful, and revelatory, recordings.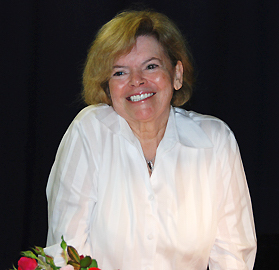 Renowned as a concert pianist, musicologist and educator, Luisa Guembes-Buchanan was born is Lima, Peru, where she received her early musical education at the Conservatorio Nacional de Música. She holds degrees in Performance and Musicology from the Manhattan School of Music, C.W Post College, New York University and Boston University.
Ms. Guembes-Buchanan has given performances throughout the United States, Latin America and Europe both as a recitalist and soloist. She has held teaching posts at Amherst College (MA), Stonybrook University (NY), and the New England Conservatory at Hingham (MA).
In addition her numerous Master Classes, Ms. Guembes-Buchanan is a founding member of several teaching and performing organizations dedicated to promote young performer's education and the facilitating of performing opportunities for them. As a musicologist, she has lectured and participated in panel discussions in the United States and Latin America.
Ms. Guembes-Buchanan has recorded and released four recordings of solo piano music – Late Beethoven (2004), featuring the piano sonatas No. 28, 30, 31, 32 and the Diabelli Variations; the 6-CD box set Complete Late Beethoven Piano Music (2008), and her latest release Beethoven in D (2012). In Fall 2014 Ms. Guembes-Buchanan released the two-CD set entitled Mozart: The Piano Sonatas featuring six of Mozart's sonatas, including the "Fantasy in C Minor", and in Fall 2015 she released E.T.A. Hoffman Sonatas, Schumann Kreisleriana , a wonderful 2-disc set of a rarely recorded repertoire. Her disc, Schubert, features works for solo piano from Schubert's final years, while her release, Robert Schumann – Perspectives (2018) is a marvelous two-disc set packaged together with a richly insightful book outlining the history of each of the works. Her disc, the two-disc Late Beethoven – Diabelli Variations; Bagatelles (Del Aguila Records – DA 55313) is a superb performance of the monumental "Diabelli Variations" as well as the intimate Op. 119 & Op. 126 Bagatelles, as well as the Klavierstuck WoO 60 and the Piano Piece "Artaria 195, p.74". Her latest disc, the two-disc E.T.A Hoffmann, W.A. Mozart – Piano Sonatas (Del Aguila) is a superb marriage of repertoire in a beautiful newly re-mixed and re-mastered performance.