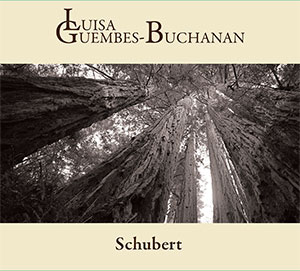 Luisa Guembes-Buchanan has been our guest at Fanfare on numerous occasions, but as she possesses the endlessly curious mind of a musicologist, as well as the communicative persona and nimble fingers of a pianist, there's always something new to explore.
Although you've recorded music by the American John Cage and the French Erik Satie, the majority of your CDs have concentrated on the German or Austrian Beethoven, Mozart, and now Schubert. Have you ever wondered why this might be so?
One reason may be that although I am Peruvian, Germany is really my spiritual home. The very first time I went to Germany I thought, "Oh, I'm home." I spent 16 summers in Wust, which is a small village in the former East Germany, situated not far from Berlin. Wust is dominated by a Romanesque church, an old manor house, and a big park. You hear, but can never follow, let alone understand, the regional dialect of the inhabitants. It seems easier to guess what the cocks are saying when they crow in the morning.
In 1991 the Sommerschule für Englische Sprache und Literatur, Theater und Musik was established in Wust as one of the very first cultural initiatives undertaken in the years after the reunification of Germany. A member of the family that originally owned the manor until they were evicted by the Communists in 1945 founded this school, together with her friends from the UK and the United States. Each year about 20 native speakers of English came to Wust to teach the language, English literature and/or theatrical performance. Every summer up to 150 students of different age groups from the former East Germany took part in a four-week program. They stayed with a local family or lived in their own tents. There was an overwhelming atmosphere of friendliness throughout the school as well as enormous curiosity on all sides, and at the same time intense work. Many a career took an unexpected and exciting turn as a result of the Wust experience.
I joined "Wust" for the first time in 1993 and bless the 16 successive years that I taught there. It was such a rewarding experience! I loved my pupils and am still in contact with many of them. We worked very hard, believe me, but there was also this quite exceptional sense of freedom which allowed everyone to try out new ideas without feeling any inhibition. We called it "the Wust virus." Bureaucracy did not exist, or at least it did not show. Most of my students wanted to follow a career in music. They did so and became successful. My requirements were simple: No beginners, definitely, no beginners whatsoever, only students who were interested in learning, who were already enrolled in conservatories or the like, and who wanted to do a seminar on music. They had to have a willingness to learn, to listen, and to engage in experiments and exchange ideas and repertoire as well as technique. That's all. We studied, and I worked from eight in the morning until about 11 at night: Lessons in the morning, master class in the afternoon, lecture or discussion in the evening.
The beauty of it was that the townspeople were wonderfully supportive. If the students played five notes in a row, they all showed up and clapped. I was very proud when in 1994 my first German student, a young pianist from Magdeburg, became the first former East German to study piano at the Juilliard School with a grant.
Besides teaching at Wust I gave innumerable concerts, lectured on different aspects of music and composers, did master classes, and enjoyed everything greatly. In 2015, the Wust Summer School celebrated its 25th anniversary with undiminished enthusiasm. What more is there to say?
Happy days. But besides your affinity for German culture, do you feel a personal connection to Schubert?
The Schubert recording was prompted by my desire to honor and to celebrate the life of William Scheide, who died at the age of 100 a year ago. He was not only my father-figure mentor and friend but also a great lover of the music of Schubert.
Did Schubert ever meet Beethoven?
Some people say he did; others say he didn't. I don't know. But I do know that Schubert was a pallbearer at Beethoven's funeral. After the funeral, Schubert made a toast "to the one who goes next," and Schubert was the next to die. Thus, for me the C-Minor Sonata that I include in my CD is in a way a homage to Beethoven. Compositionally—and to me this is the wonder of his genius—Schubert incorporated his own vocal writing into Beethoven's Classical musical gestures. Unlike Beethoven's music, which is always moving toward a goal, Schubert takes us along many, many pathways. This is what intrigues me about Schubert.
Prior to starting your own label, did you have any experience with recording?
Some, but not enough: I came late to the art of recording. I've always performed, given lectures, and done master classes. I love doing that, and I believe that I am good at teaching advanced students. But to go back a bit, while in Germany I started recording my master classes: My students would come, have their private lesson in the morning and practice in the afternoon. Moreover, we would have master classes where all the students contributed. We recorded and videoed these classes. Later we would watch what the students had done and discuss how to improve, change their performance, how to make the musical point intended, etc. One day somebody said, "Why don't you make some recordings?" I did so and the experience taught me something important. When you perform, it's a totally different feeling, and mistakes are all right. In a live performance it's the thrust of what you hear that matters, and in addition, the audience feedback is extremely important, at least to me.
Many musicians would agree with you.
Oh, I feel it; I feel it a lot. And my performances sometimes change, depending on the type of audience I have. However, when I started recording it was a new experience. I was very tense and found the process very difficult. But it has its rewards. Through editing, listening over and over, meticulously, you can better convey your interpretation. As a musicologist I do research to know better the "why" behind a composer's musical choices and how to present the composer's ideas. But you have an opinion and your opinion is there in the recordings.
Your label is very much "home grown": You record in your house, the cover and booklet illustrations (which are marvelously executed), were done by a relative….
I'm very lucky. I have a splendid editor and recording engineer, Patrick Lo Re. He is a wonderful artist; we've grown to know each other very well. As an acoustician he transformed my music room into an ideal space for both performance and recording. However, right now, regardless of how well I know him, when he turns the microphone on, it's a different thing. [laughs]
That self-consciousness probably subsides after a while, doesn't it?
Yes. But you could ask him about when I did 17 versions of the same thing. [both laugh]
Only 17?
For a movement.
Perfectionism can be a merciless taskmaster, so I'm guessing you might have wanted to do all those retakes for reasons other than nervousness. In any case, perhaps having two wonderful pianos makes all that repetition more bearable.
Exactly. I have two Fazioli F228s.
Are they full-size?
No, they are two meters and 28 centimeters in length. They're very different from each other. One is bright and full-bodied; the other, dark and very deep in sound. My piano technician is very dedicated and keeps both pianos in great shape.
The John Cage and Erik Satie pieces you've recorded couldn't be farther removed from the Classicism of Beethoven, Mozart, and Schubert, yet you didn't hesitate to leap over the intervening centuries in pursuit of that elusive "Why."
Right. I continue to seek to understand the "why" of composers and the musical language they employ, specifically what makes them use this or that mode of composing. Among the most interesting things that I keep encountering, no matter who the composer is, is the beauty of silence. It's really the beginning of everything and the art of recording has brought that point across to me.
It sounds as if you're on Cage's wavelength, at least as far as silence is concerned.
[Laughs] Actually, I performed 4'33" years ago in Germany at the music school. Every year my students had to come up with a project and it just so happened that one year this required exercise was to take place on the Fourth of July. Consequently, I thought, let's do John Cage. We chose Silence for our topic, but we did it in a very interesting way. I had a student of mine sit at the piano with a score. When the audience arrived I didn't pass out a program. Instead I gave them index cards, together with a pencil and instructions to please listen to what they heard and then to write their reaction on the index card. Elizabeth, my student, was perfect. She had a timer and turned the pages at just the right moment.
I didn't realize the piece includes such precise instructions.
Oh yes. She followed the instructions, closed and opened the lid of the piano to indicate the change of movements, and at the end of the concert we collected the comments. Unfortunately I have lost them, but I do recall some of the remarks: "I shouldn't have had such a big lunch." [laughs] Another person wrote, "I can hear my heartbeat and I can make it go slow or fast depending on how I breathe." But the best was from the director of a music school nearby, who said, "The second movement's too long." [laughter]
That's very funny, he must have had a great sense of humor.
I loved it. And we acknowledged Cage in another way. There was a lady who painted mushrooms, so we set up a display in a church to honor the mushroom.
Because Cage was very involved with mushrooms.
Yes. He grew them. We had something like a fish tank full of mushrooms with a microphone nearby because he claimed that you could hear them grow.
They certainly grow very fast.
[Laughs] Then we had a performance of the Toy Piano Suite, using a toy piano, of course.
One of these days I'm going to buy myself a good one.
Try and tune those things.
What about Satie? His Vexations is based on an intriguing idea but I don't think I could stand playing or hearing the same small segment 840 times in a row.
Well, it's interesting you say that. I had 60 versions, all different: By throwing dice, as with the I Ching, you could randomly choose the order in which to hear them and have an infinite number of performances.
Recording the piece wasn't easy, but I did it. However, I didn't do it at home. I did it at a studio. The acoustician didn't know what he was getting into. I told him I was going to play as many variations as I could and he asked, "How many are there?" I said "840," and his answer was an emphatic "No." OK. I reduced the number to 60, which could be repeated another 14 times by the listener to give 840 repetitions, and I used a strobe so that I could more or less keep the same tempo. I set to work and all of a sudden he came bursting in and shouted, "Stop. I can't stand it anymore!!"
That's a great story. I wonder what prompted Satie to write that piece: He could be a bit of a provocateur at times, as could Cage.
Did you ever teach? For a part of my life I taught beginners, which was not my best suit. I had to learn how to approach these students so we could both enjoy the experience. Fortunately, I found a wonderful short composition (which I used with my advanced students also) by Luciano Berio. It's called Brin. In his piece he replicates the sound of grass being moved gently by a summer breeze (makes a blowing sound). It's markedpianissimo, with rests. If you can play with that in mind, you will never bang the piano again. And likewise with Feldman: All those whole notes are to be played pianissimo. Try and sustain them.
It must be very difficult.
Yes. But if they learn to do it….One of my students loved Feldman and tried as hard as possible to play as softly as he could and to connect the next and the next big fat note. It's nearly impossible. But he did it. And after that his Bach became marvelous. So for teaching purposes, music like that is fine. Just don't ask me to perform it!
Knowing that you were born in Peru, I couldn't help but be curious about contemporary Peruvian classical music. Is it thriving?
Oh, yes. There are several contemporary composers. One I knew well was Francisco Pulgar Vidal, whose music I played and taught.
Do you like South American folk music?
Years ago, when my four children were small and there was no time to practice, I developed an interest in ethnomusicology. I looked into Andean Peruvian music and compared it to coastal music and developed a program of exemplary pieces. I did a little tour of the public libraries around Long Island, playing examples of Andean and coastal music. I learned a lot from that experience and appreciated it enormously. Still, in the end, I'm more of a Schumann person. [laughs]
I wasn't suggesting you perform it, but as I find it very appealing I thought that you would, too.
In Germany I met the Peruvian Ambassador Frederico Hoffmann-Doight, a well-known anthropologist. He sent me a whole mound of literature on Andean music. I found the information very intriguing, and it certainly educated me on the many varieties of genres involved. There are so many dissertations on this subject! I always like to know, as I told you. I'm always looking for what's behind the music. For example, I found that somebody had done a dissertation on the different kinds of Andean flutes and how the flautists blew on them, starting with prehistoric tibia bones. At issue was the student's desire to learn whether the flautists established the intervals on purpose or did they just happen. Well, in the end the man concluded that he could argue either possibility. I thought that if this scholar took all that time—I think his survey was based on 1,000 samples—to come to such a conclusion, I was not investing a single minute on this enterprise. [laughs]
You mentioned Schumann a moment ago. Will you be recording some of his music next?
Yes, I'm hoping to explore Schumann as a narrator. Some of the works I have in mind so far are Papillons, Faschingsschwank aus Wien, and Gesänge der Frühe. – Robert Schulslaper
SCHUBERT Impromptu in A♭, D 899/4. Piano Sonata in c, D 958 • Luisa Guembes-Buchanan (pn) • DEL AGUILA 55312 (39:30)