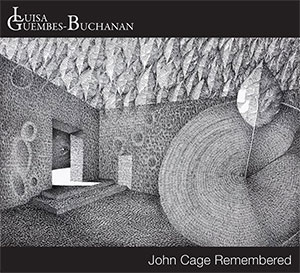 Up to this point in time, Peruvian-born pianist Luisa Guembes-Buchanan has been represented in Fanfareprimarily for her scholarly—and perhaps somewhat controversial—performances of Beethoven; she's been interviewed twice previously on the subject by Jerry Dubins (Fanfare 29:4 and 32:3), who, despite acknowledging that they hold at least some "divergent views," admitted that her recordings "belong in a special class…an intellectual, as opposed to emotive, approach," and that her version of the Diabelli Variations in particular is notable for its "scrupulous, self-effacing attention" to the score and is "an accomplishment of the highest artistic order." In Fanfare 29:6 he also praised her recording which paired the five sonatas of E. T. A. Hoffman ("a sterling performance" of music he characterized as "utterly academic and arid") and Robert Schumann's Kreisleriana ("perfectly paced and moving").
I'm relating this background in order to establish a "conventional" context for Guembes-Buchanan's abilities simply because there are those among us who might otherwise view this recording as a joke, dismiss her as a fraud, and question her competence in more "acceptable" music. Certainly, in style and attitude, it is far removed from Beethoven. What she has given us here is 60 performances of Erik Satie's brief piece Vexationsand an account of John Cage's rarely encountered Chess Pieces. While I cannot explain her motive, I can describe what she has done, and hopefully provide a bit of perspective.
Though undated and unpublished during his lifetime, Vexations was probably composed in 1893, during the period when Satie, still in his 20s, was involved with the esoteric, mystical Rosicrucians. Like most of the piano music he wrote at this time, Vexations is austere, introspective, and unorthodox in form; it consists of a "theme"—a 19-note melody (the last two notes are tied) on a single, unbarred staff in the bass clef—and two similarly unbarred, separate systems (treble and bass clefs) which each harmonize the theme with slight differences. Other than the indication Très lent (very slow), there are no instructions for dynamics, phrasing, or even the intended instrument. There are two attached statements, however. One says (in French, of course), "At this sign customarily the Theme of the Bass will be presented." Since the sign is placed above the beginning of both of the harmonized systems, it suggests that Satie intended the unharmonized "theme" to be played before and in-between each playing of the other two systems. The other statement is more mysterious and problematic. It says, "In order to play this theme 840 times in succession, it is advisable to prepare oneself beforehand and in greater silence through severe immobilities." Some observers have interpreted this as merely an absurdism, in the manner of similar idiosyncratic instructions he placed in some of his scores, such as the request for the pianist to play "like a nightingale with a toothache" in his Embryons desséchés. But others have accepted Satie at his word. The first documented performance of 840 repetitions of Vexations was organized by John Cage in 1963. It took more than 18 hours. There have been a number of subsequent live performances, but no "complete" recordings so far.
Guembes-Buchanan has taken Satie seriously. However, her solution to the problem of the work's exhaustive length was to record the piece 60 times (seemingly arrived at in consultation with the I Ching, in the manner of Cage), saying in the album's liner notes that "when played 14 times, will yield the required 840 performances." At first, a few questions came to mind. At the tempo she takes, the piece lasts less than two minutes. Did she really play it 60 times, or only once, and repeat the recording of the same performance 60 times? Since she is willing to have the listener make use of mechanical means to experience a "complete" performance, is it possible that she made use of such a short cut herself? If that were actually the case, would it misrepresent Satie's intentions? Was the point he intended not just to confound the listener, but to actually affect the performer's experience in unknown physical and mental ways? Or would Satie have embraced the technology which would have made a full day's performance of his music possible? We have no way of knowing.
By my ear, I would say that Guembes-Buchanan did indeed play the piece 60 distinct times. There is a remarkable consistency in the playing—of the 60 versions, 48 clock in at 1:48, 10 of them at 1:47, one at 1:45, and one at 1:43, not that there is any discernible difference, tempo-wise, between them—but I did experience what seemed to be almost unnoticeable differences, mere nuances, in several of them. Occasionally I sensed an ever-so-slight delay from one note to another in her phrasing. Was the 20th version somewhat louder, or was it my imagination? I'm sure that number 46 and number 59 both seemed softer, more delicately phrased, and number 60 seemed bold by comparison.
Did I truly listen to all 60 repetitions of the piece? Yes, and even followed the score for some, but not all of them. After a while, the effect became almost hypnotic, then numbing. I found my focus drifting from time to time. I do confess to checking my e-mail once while listening. Did I listen to them, together, 14 times in order to fulfill all 840 repetitions? No. But I do wonder (though obviously not enough to attempt it yet) what the experience would be like, how it would affect my thoughts and feelings during that extended period. Would I even stay awake all 27-plus hours? There's little doubt why John Cage was drawn to the piece—like many of his works, it's not only a musical experience, with whatever psychological and emotional effects that involves, but extended to any unfamiliar, uncomfortable length—nearly two hours, as here, or 20—it's also a study in perception.
As an appendix to Vexations, Guembes-Buchanan offers an unusual work by Cage himself. The unlikely score for Chess Pieces was a painting that Cage created in 1944 for an exhibit of chess-related artworks organized by Marcel Duchamp and Max Ernst. On a 19 x 19 inch piece of cardboard Cage drew a chessboard—64 squares—and layered musical notation across them. There is no evidence that Cage intended the notation to be performed (no instrumentation is indicated), though there are drafts and notes relating to the work in the New York Public Library, so there may have been some compositional design beyond the visual imagery. The artwork languished in a private collection for many years, and not until 2006 was the music from it transcribed, performed, and recorded, by pianist Margaret Leng Tan. Two years later, Nexus performed an arrangement for percussion quintet. Not to be confused with Chess Piece, the 1987 chance-derived film Cage made of a chess match with Teeny Duchamp, the music of Chess Pieces turns out to be modal, linear, lyrical, unadorned, and very much in the style of Satie's early music. Guembes-Buchanan plays it, as she doesVexations, with clarity, an undemonstrative efficiency, and exceptional control. If you're the least bit curious about all of this, keep in mind that the music, cover art, and program notes may be downloaded at no cost from the website listed above. – Art Lange
SATIE Vexations. CAGE Chess Pieces • Luisa Guembes-Buchanan (pn) • DEL AGUILA (116:07)
This article originally appeared in Issue 36:5 (May/June 2013) of Fanfare Magazine.